History of Holland > Dutch painters > Dutch landscape painters > Jacob van Ruisdael (1628-1682)
---
Jacob van Ruisdael (1628-1682)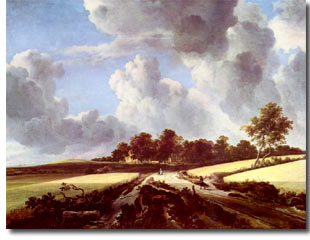 Jacob van Ruisdael (1628-1682) was destined to be the greatest exponent of landscape art, the master at whose feet all posterity have sat far guidance and inspiration. As Rembrandt by a flash of his will brought forth the glory of chiaroscuro, so Ruisdael was the first to interpret the harmonious chords, major and minor, of nature's sympathy, and infuse his own soul subjectively into the interpretation.

But little is known of the life of Jacob van Ruisdael. We know that he was born in Haarlem, the son of Izaak, the framemaker and picture dealer, and the nephew of Salomo van Ruysdael. Izaak and Salomo had each a son named Jacob, who both became painters. Salomo's son lacked talent and remained obscure, Izaak's son Jacob became the foremost of Holland's landscapists.

It is plausible to assume that Jacob van Ruisdael adopted the spelling of his name by changing the double i, or y, into a single i to distinguish his work from that of his uncle and cousin. It is supposed that Jacob at first studied surgery. A most likely supposition, far in Holland a thorough course in botany precedes the study of medicine, and that Ruisdael was a botanist is fully proved by his impeccable rendering of vegetation, of trees, plants and flowers. His artistic talents, however, being discovered by Berchem, he entered his uncle Salomo's studio, and later studied with van Everdingen. He moved to Amsterdam, where he met with indifferent success.

After having given marvellous views of his own country he commenced in desperation to produce those wild scenes of mountain torrents dashing over rocks, with which his master van Everdingen had struck the popular fancy. A trip to the northern forests of Germany gave him his material, for in several of his paintings we recognize the picturesque old castle of Bentheim, in the province of Hanover.

Although his work of this kind is superior to that of Hobbema, he still remained unappreciated and, despite his productiveness, far over 450 of his works are cataloged, he came to want. The members of the Mennonite community of Amsterdam, of which sect he was a member, secured admission for him in the almshouse of Haarlem in 1681, where he died the following year.

The weight of genius overcomes all cavilling. While studying van Ruisdael's masterly work it may occur to us that his handling lacks the vivacity of Jan Steen's, or the facility of Frans Hals, or the force of Rembrandt; that his colour has little brilliancy, and is not always agreeable; that his palette is parsimonious and limited. Withal his paintings surpass anything that has ever been produced in landscape art, because they are the work of a man who expresses some lofty and sustained thought in the most forceful language. They are the work of a man of mighty mind who thinks, and is unique in his expression. He has a style, imposing, dignified, all his own; one which scorns the superfluous, the useless, the merely pleasing. He shows himself simple, serious, strong, with sustained force.

The greatness of Jacob van Ruisdael is founded on the subjectiveness of his art. We discover in his work the domination of his own personality, somewhat melancholy, loving solitude, musing. A natural temperament of the kind would with his continual financial privation make a man gloomy enough. We must not consider the unchanging tenor of his subjects as a limitation it was inclination. He saw the full bright tones of sunlight all about him, but he also saw the dark and cloudy days, of which Holland has more than clear ones, and he preferred the broken and diffused light and gray halftones. He was more moved by the sight of a stormy sky and the shudder of great trees tortured by the gale.

Just as that other great subjective painter, Corot, laved the pale light and silver-gray of the dawn in preference to the noon­day sun. In both cases it was not a limitation of vision, but a choice of sentiment. We even can see this in the few sea pieces van Ruisdael painted, which always have a dark sky, threatening tempest, agitated, sometimes raging.

But above all van Ruisdael was the discoverer that two-thirds of all landscape is sky. He was the first great skypainter. He unfurls the dome of heaven more magnificently than had ever been done before. Nor had his keen abservancy of the skyscape ever been surpassed, rarely reached. He painted the cloud-forms, wrought with approaching storm or fleecy with caressing lightness; like burnished silver or opaque with hidden thunder; shedding light upon the earth by reflection and refraction; or a solid mass like an immense vault, an actual ceiling - his sky is always an integral and most important part of his vision.